7/6-7/20 – Mississippi, Louisiana and Natchez Trace
On July 6th we drove from Memphis south through Jackson, Mississippi then took the Natchez Trace Parkway, a beautiful two-lane highway that goes from Nashville, Tennessee to Natchez, Mississippi, about 400 miles. Historical markers every few miles tell the story of traders and settlers in the 1700s, and native peoples hundreds of years before, that used the trail. 
I wanted to ride my bike but it rained the whole way, sometimes so hard we had to pull over, as did other motorists. I hoped for a better day tomorrow. We crossed Old Man River again into Louisiana. Judy found a great RV place right on the river. Two of our neighbors, Mike and Fred, who work together and live in their motor homes when on assignment in the area, came over to inquire about Sunride. They were delighted to learn about our little adventure and in the end Fred decided he was going to get an electric bike too. I've sold four or five e-bikes that I know of.
I took Sunride Jr. out for a ride that evening, riding along the walkway running parallel to the river. A big barge came by with mounds of gravel onboard. I rode into the town of Vidalia, Louisiana past a food stand called C & M Crawfish. There were lots of people waiting in front. Looks like a place to try.
The next day Judy wanted to see the antebellum mansions. I agreed to go to one of them, but I was eager to get myself and my bike over to the Natchez Trace. Dark clouds were looming so I wanted to ride before it rained. I was most impressed with the size of the trees. They were dotted around people's yards providing a canopy nearly shading the entire grounds.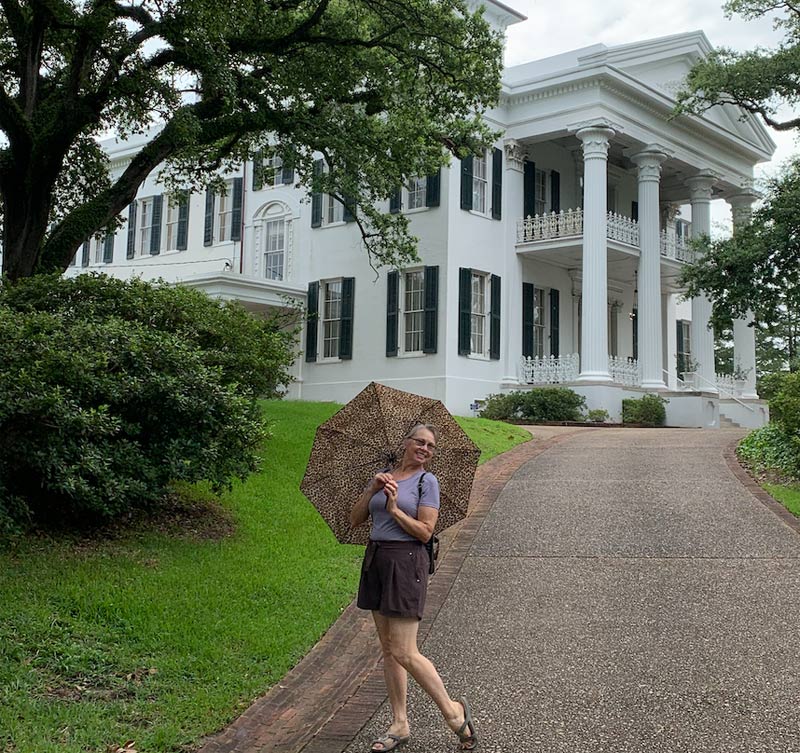 Off I went and sped along at 25 miles per hour peddling as fast as I could, never throttling all the way. I wanted a good workout with the limited time we had. I had the whole road to myself. Road signs read, "Bicycles may use the full lane" so I did. There were no big trucks and just a handful of cars that passed by. Big trees of seemingly infinite variety crowded the road. In some places their mighty limbs reached across the road forming a tunnel. Birds sang and flitted about. It was so much fun zooming along. Avid cyclists travel the entire route. I would have to settle for just a little piece, but it was indeed a piece of heaven.
After my ride we drove up to Vicksburg spending the rest of the day at the Civil War battlefield site. It was a very moving place to be, bunkers clearly visible where Union and Confederate troops established their lines. Detailed placards showed daily tallies of killed and wounded for each side. The wounded were three or four times the number killed. What a mess. How did our country ever heal from such a lamentable ordeal? In the ninety-minute ride back to camp we were reverently quiet, thinking about what happened in Vicksburg. Then we hit the C & M.
7/6-7/20 – Mississippi, Louisiana and Natchez Trace