8/7/20 – Massachusetts to Maine
Judy dropped me and Sunride in Salisbury, Massachusetts, the northeast corner of the State. We were told because of the high number of Covid cases some states, like Vermont, weren't admitting travelers from The Bay State. I biked north on Hwy 1 and actually passed her at what I thought might be a checkpoint going into New Hampshire but it was just a drawbridge. I was first into the Granite State but she soon passed me. She could go 35 mph up the coast. Sunride can only go 25. Still it was nice proceeding along the coast more or less together. I rode the entire length of New Hampshire's Atlantic Coast. Lest one be overly impressed, it's only 18 miles, the shortest coastline of any state in America.

Judy waited for me in a park near the Maine border where we loaded up Sunride on the back of the trailer and drove across the bridge into the Pine Tree State. I had a feeling of exhilaration as we entered the state; because now I can say I have been to all 50 states.
There's so much to like about Maine. It's a very clean state, hardly any litter, lots of new buildings and the old buildings are well maintained. The air is pristine clean. There's a quality to it, like the Oregon coast where there's no industries to pollute and the incoming ocean air is well scrubbed by the sea.
There's lots of solar all through New England. Even modest homes cover the entire roof with photovoltaic modules. 
Businesses have huge arrays, like the Maine Brewing Company where they covered all the south facing roof and added a ground mounted tracking system for good measure.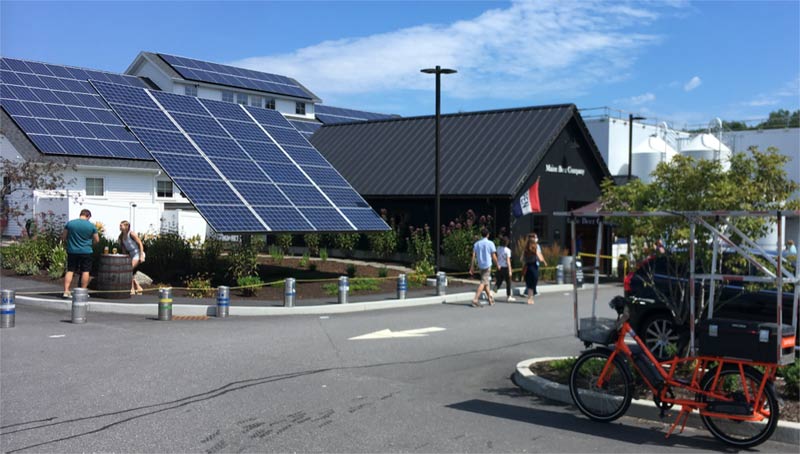 Maine is the home of the other Portland; not as big but boasting more water,

and the home of L.L. Bean, where half my wardrobe comes from.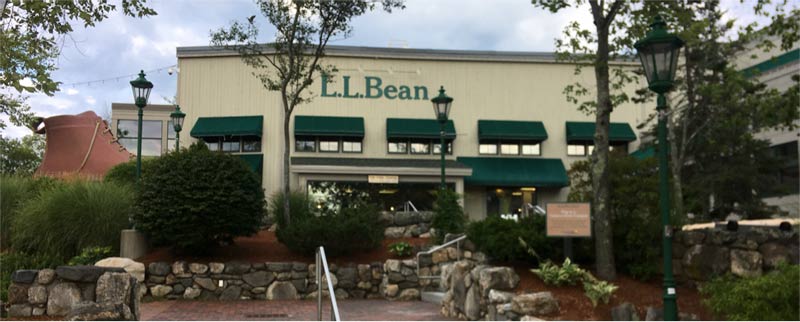 The best thing about Maine, from Sunride's perspective, is the great bike lanes and beautiful scenic rides along the coast. In total, I would ride 160 miles up and down Highway 1 between Portland and Bar Harbor. Frequent road signs allow cyclists to feel safe and assured.

We stood atop Cadillac Mountain in the Acadia National Park, the first place in America to see the sunrise. I estimated at least 500 others set their alarms at 4 a.m. and scurried up the mountain to greet the sun. There was soft chatter among the crowd until the sun appeared, then everyone, quite naturally and reverently, went silent.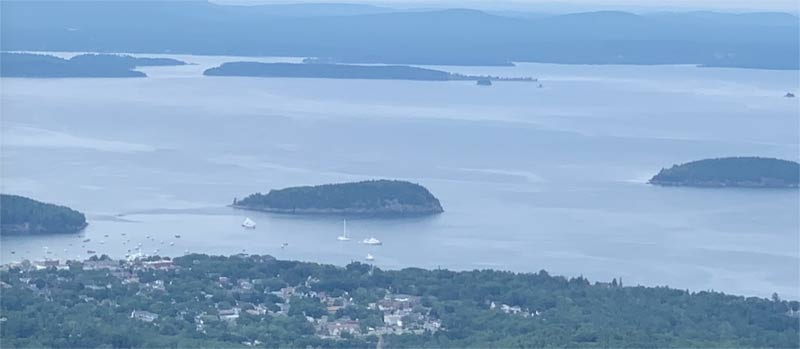 I think Maine, The Pine Tree State, should rename itself. Sure, there are pine trees here, but not nearly as many as Georgia, the Carolinas, Oregon, California and other places. It seems everywhere you look there's lobster, way more lobster than pine trees. Popular dishes include steamed lobster, lobster rolls, lobster bisque, lobster mac and cheese, and lobster linguine.
8/7/20 – Massachusetts to Maine