6/17/20 – Sunride Chapter 3 Begins
For weeks now after I was turned away at the Tesla gigafactory because of the Corona virus I've been racking my brain how to continue the quest of riding my solar powered electric bike to all 50 states.
On the map I plotted the next ride from Montana to Texas. It turns out the states east of the Rocky Mountains line up in a straight north/south line. With a little zigging and zagging I could do Montana, North and South Dakota, Wyoming, Nebraska, Colorado, Kansas, Oklahoma, New Mexico, and Texas.
Logistically it was a challenge to figure out how to get me and my bike to the "trailhead" in Eastern Montana. I could rent a U-haul one-way but that was expensive and once I got to the end of the trail then what? I asked a few friends if they would drive me to eastern Montana in my own truck. They laughed. I asked another friend from Minnesota if they would do it, dropping me in Montana and continuing to Minnesota at my expense. They didn't dignify the request with a response.
Feeling a bit dejected, I thought about not doing the ride at all. It seems the country is pre-occupied with the pandemic and racial disparity. Some renewable energy enthusiast riding his solar powered electric bicycle all over the place seemed a bit gratuitous compared to the other serious matters at hand. Then out of the blue, my wife Judy offered to go with me in the trailer. I had baulked at the idea before, thinking how do I promote solar energy and electric transportation using a truck and trailer getting 13 miles per gallon on fossil fuels? I shrugged off the idea but she persisted. "You'll have a place to stay everywhere you go and in small towns there may not even be restaurants and hotels that are open." I had to admit she had a point. Given the pandemic and all its implications her idea made perfect sense. So, today we left home in the trailer with the electric bike strapped to the back.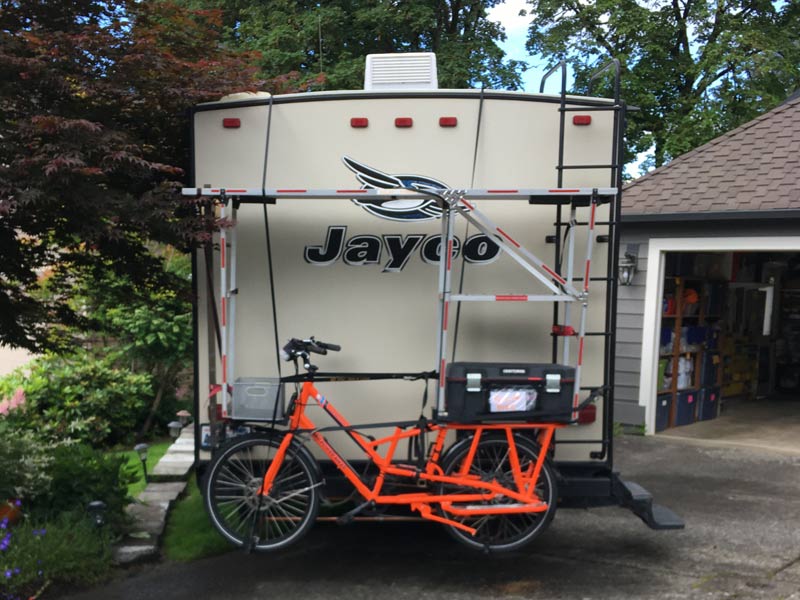 We stopped in La Grande, Oregon to do a service call on an owner-built solar water heating system. We got the system running and moved on to Enterprise, Oregon where we had dinner and camped at the Terminal Gravity Brewery.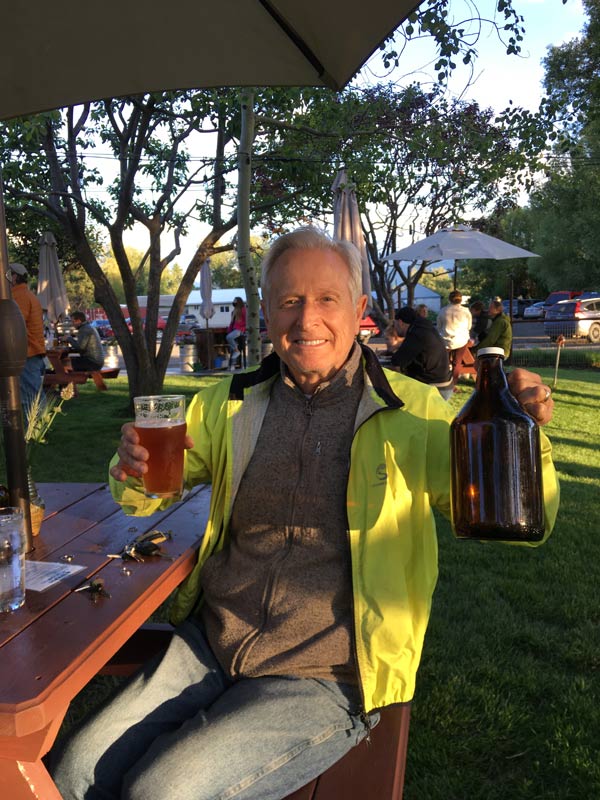 I had their famous beet reuben sandwich, a pint of IPA (the finest in all the land), and got a growler to go. It was a nice ending to a great day a little less than half way to the trailhead where the next ride begins.
I am super excited for the ride to begin. It will happen over the longest, sunniest days of the year, which means I will be able to travel further each day because there's more sun. Secondly, I won't have as much to carry on the bike (no tent, sleeping bag, week's supply of socks, underwear and shirts). Less weight means more distance. Thirdly, the trailer also has a solar panel that can provide as much energy as the panel atop the bike. Whereas on my first ride, Portland to Salt Lake City last September, I was averaging 80 miles per day, with the extra sunshine, less weight, and extra solar capacity on the trailer, the math dictates I could conceivable go twice as far IF my butt can handle it. I have a new padded seat and padded biking shorts so we shall see.
Tomorrow we will go to Cottonwood, Idaho to visit the sisters of St. Gertrude's Monastery. I installed a big solar water heating system and solar electric system for them a few years back. I want them praying for my trip, which I know they will do, to go safely and successfully. Then we will motor on to Bozeman, Montana for the night. Day three will take us to Theodore Roosevelt National Park on the border of Montana and North Dakota. There we will offload the bikes, Judy and I will ride through the park, a 35-mile loop of sensational scenery, and go to an outdoor play. Then, the following day I will Sunride from Alzada, Montana to Rapid City, South Dakota, a distance of nearly 100 miles where Judy and the trailer will be waiting at my cousin Barb's place. We'll spend a couple of days there touring Mt. Rushmore, the Black Hills, Sturgis, and other points of interest. We will be able to socially distance by staying in the trailer, not even entering friends' homes along the way.
Having the trailer also allows the opportunity to bring a case of my book FOOTPRINT: A FUNNY THING HAPPENED ON THE WAY TO EXTINCTION. I plan to leave one at the public library of every town we pass through, like a "Jonny Appleseed" for solar energy.
Follow along at www.sunride.us/blog. Keep us in your thoughts and prayers.
Let the vision spread.
6/17/20 – Sunride Chapter 3 Begins