1/9/21 – Hawaii Day 3: Into the Volcano
As I sat in the open air on the third-floor terrace of The Deck Restaurant, Diamond Head seemed right in my lap.

Knowing that I was looking at a three-million-year-old crater, I wondered what it might have looked like two million years ago or one million. What did it look like 20 years after it erupted? Probably much like Mt. St. Helens. I was there when it erupted in 1980. The top third of the mountain blew right off. Mt. St. Helens will probably look like Diamond Head does today in three million years, eroded down to a nub. The first inhabitants of the Hawaiian Islands came here about 1500 years ago. I'm guessing Diamond Head would have been a few inches taller back then.
I resolved to ride up there. At the end of my street I saw another street named "Diamond Head Road." That would take me right up there I'll bet. Sure enough, riding past the east end of Waikiki Beach, trying my best to keep my eyes on the road, mentally shielding my peripheral vision from the fit young women playing volleyball in thong bikinis, I made my way up the mountain.
It wasn't really far, just a few miles up, when the road took me through a tunnel.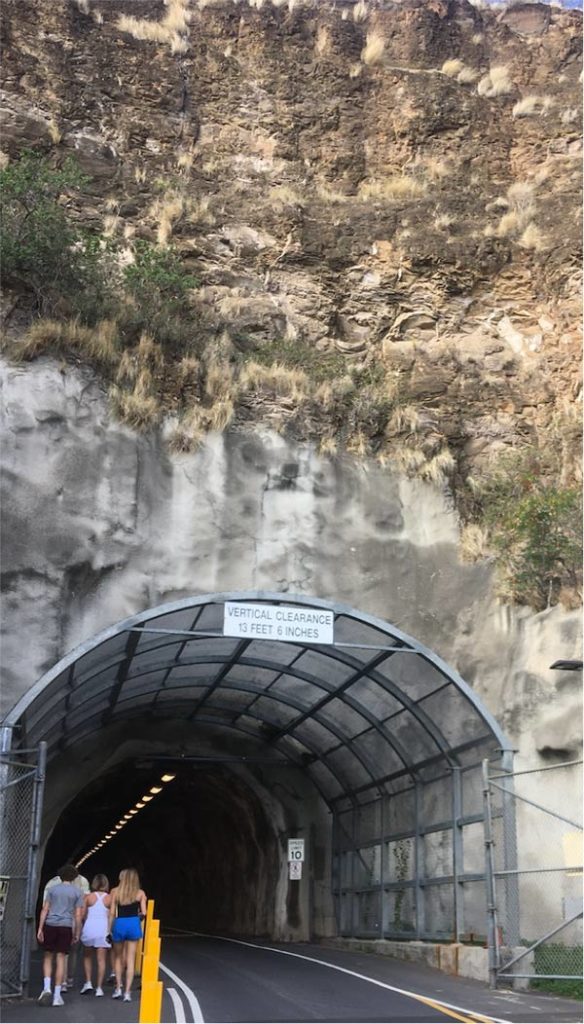 The tunnel, I would soon find out, took me through the side of the crater and onto the crater floor. It was a bit surreal being on the inside of a volcano. This thing is dormant, right? If it were to blow, it would blow me and Sunride sky high, literally! It did blow once upon a time. Other active volcanos in Hawaiian are still oozing molten lava to this day, enlarging the islands.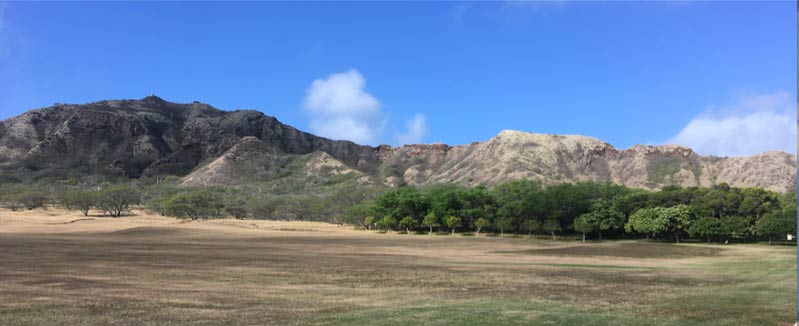 Maybe I should invest in some of the newly formed real estate. If someone were to say, "You couldn't afford land in Hawaii in a million years," I'd be able to answer, "Yes I could." The crater floor inside Diamond Head is like the richest farm land in the Midwest. It's beautiful to stand there in the middle and be surrounded 360 degrees by a mountain that is actually a crater. It was a cosmic feeling being there. I don't think my mortality has ever felt smaller.
1/9/21 – Hawaii Day 3: Into the Volcano