7/10/20 – Florida
Today I made an executive decision in favor of quality over quantity. Spoiled by the recent heavenly rides on the Natchez Trace and the levy of the Mississippi River I decided to seek out beautiful rides in each state. What's the point, I thought, of plodding along highways with heavy traffic, being pushed around from the air blasts of big trucks hurling by like Haleys Comet, when there must be great places to ride in every state? I'd already racked up enough miles cumulatively on my two solar powered bikes to cross the country, a major goal, and I knew the sun was capable of pushing me along 100 miles or more on a good day. So, let's enjoy.
Our driving route took us into Mobile, Alabama a beautiful modern city at Mobile Bay on the Gulf of Mexico. I charted a ride from Orange Beach, Alabama to Perdido Key State Park, Florida. From the Google satellite map I could zoom in on the road close enough to clearly see a bike lane running the whole way. It's absolutely amazing the tools we have today to accomplish almost anything. So, of all the places I could ride in the Sunshine State, this is the one I chose.
It turns out the beach was well off the road, and endless high-rise hotels obstructed my view of the Gulf. I should be watching where I'm going anyway, right? Traffic and brisk winds kicked up sand and dust that seemed to stick to my sunscreen, It wasn't the most pleasant experience; certainly nothing like riding the levy or the Natchez Trace. Still I got the feel of this highly sought out vacation area near Pensacola, Florida. Sunride Jr. and I road the boardwalk down to the beach. There were surprisingly few people out. I left Sunride and my shoes at the end of the boardwalk, walked across the white squeaky sand in my bare feet, and waded around in the waters of the Gulf. The water was cooler than I expected after so many days above 90 degrees.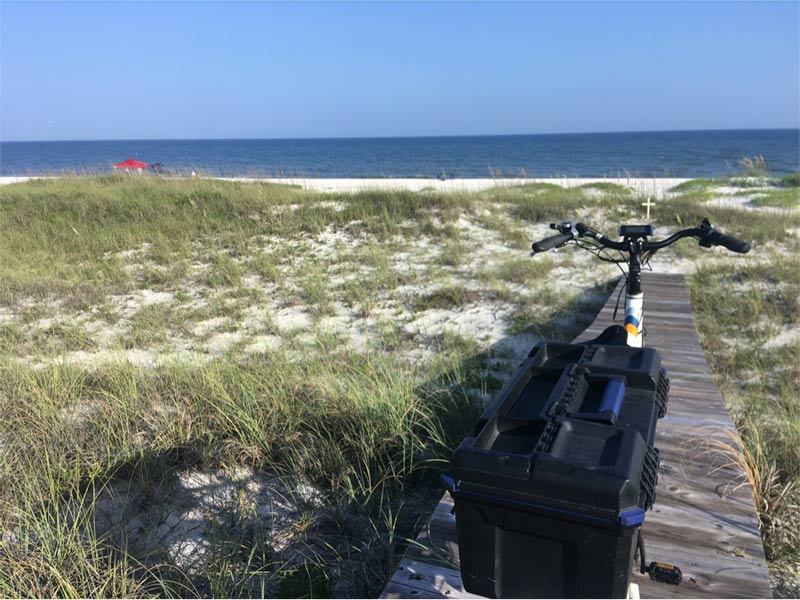 Florida would be the farthest point from home in the Pacific Northwest. Tomorrow we would head north into Georgia where a very exciting ride awaited.