6/23/20 Hot Springs, S.D. to Chadron, Nebraska
We left Rapid City early and drove to Hot Springs, South Dakota to see the largest collection of Mammoth remains ever found. What happened 140,000 years ago was that a bunch of male Wooly Mammoths went to a watering hole, fell in and couldn't get out. They drowned and piled up there, 61 of them found so far, in a small area about the size of my back yard. There were archeologists on site excavating. They were glad to talk to us and explain what we were seeing. It was very interesting.
After that we had lunch in the trailer and then cleaned off the really dirty solar panel atop Sunride (video below).
Then we took to the road, I on the bike and Judy driving the truck and trailer. The weather was beautiful today. Clear skies the whole way. There were buffalo close to the side of the road. It's wise to keep a distance from those cantankerous beasts. They do not want to be messed with when grazing or lounging chewing their cud.
It was hot today. I drank nearly a gallon of water even though most of the day I was underneath the solar panel out of the direct sun. I went 50 miles fighting my way through a menacing head wind that defied my efforts. It took four solid hours, so I averaged only 12.5 miles per hour, exactly half the rate the last time I rode with a brisk tail wind. When I pole vaulted we vaulters always hoped for a tail wind. The same is true for long distance bike riding.
The countryside was green rolling hills, big round bails of hay, cows who took note of my passing by with great curiosity. When I stopped to drink and there was no traffic noise, the air was filled with sounds of birds. You hardly know they are there except for the sounds. I saw several black birds with red on the front of their wings. They were a little bigger than a barn swallow. As I was biking one of those birds dove at me from the side. I never saw her, but I felt her slam into the side of my helmet just behind my ear. There must have been a nest close by and the swallow thought me to be an alien needing to be warned. I saw three such birds perched together on a fence watching me go by. I couldn't understand what they were chirping but I'm guessing it was something like, "What the hell do you think that is?"
I've driven in cars across the country many times, the first being in my 1965 Chevelle Malibu convertible right after graduating from college, and my most recent two years ago in my Tesla. I drove my dad from Tennessee to Oregon in his old Buick, and I criss crossed the country several times working for the Coca-Cola Company. Always in the past I traveled east to west. This is the first time north to south. I'm seeing and experiencing new things. I never saw a buffalo by the road before, or even knew there was a Theodore Roosevelt National Park. I never realized you can hear birds just about anywhere you go in the country. I love this land. It's a beautiful, special place.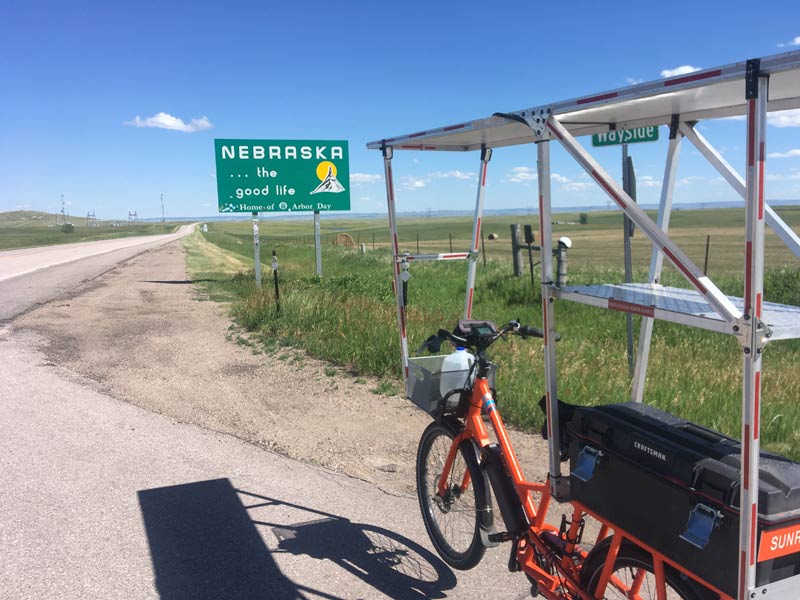 Once I reached Nebraska the horizon opened up. I could see for miles in every direction. The "Welcome to Nebraska" sign read, "the good life." It looks that way to me.
6/23/20 – Hot Springs, S.D. to Chadron, Nebraska