8/20/20 – The Final Four
The evening of August 19thwe pulled into the campsite near the town of Rockford in Northern Illinois. It had been a long drive so I elected to wait till the next morning to do my biking. I am and always have been a morning person. Early the next morning I jumped on Sunride and rode 27 miles around the waterfront area then up toward the Wisconsin state line.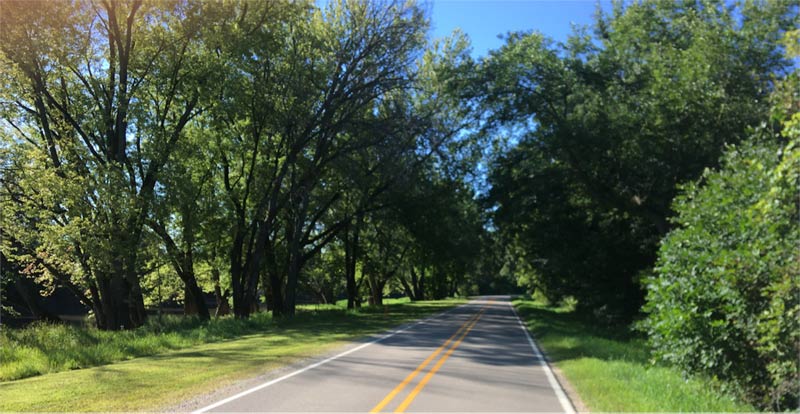 Two young guys riding bikes and carrying fishing poles were out early. We passed each other near a one-lane bridge. They gave Sunride a close look but didn't stop to ask questions. All over Illinois there seem to be endless cornfields. A great deal of it, I'm sure, goes into that 10% ethanol at the gas stations.
That evening we camped in Lacrosse, Wisconsin. I went out for a nice evening ride on a bike trail running parallel to the Mississippi River. The welcome sign listed Industry, Agriculture, Recreation. I saw all that along the bike trail, lots of industry, baseball fields, and outside the city, plenty of cornfields.

I rode 22 miles in Wisconsin, then decided to call it a day. I was down to two states, Minnesota and Iowa, to complete the lower 48. I was so excited I could hardly sleep that night. I just wanted morning to come right away. I was up at 3:30 a.m., blogging and waiting for it to get light outside, which it did a little after 6. Boom, out the door I went, heading across the mighty Mississippi into Minnesota, which had one of the nicest welcome signs of any state I'd seen.
It was 27 miles along the River down to the Iowa State line. I passed many beautiful vistas on the way, and enjoyed a glorious sunrise.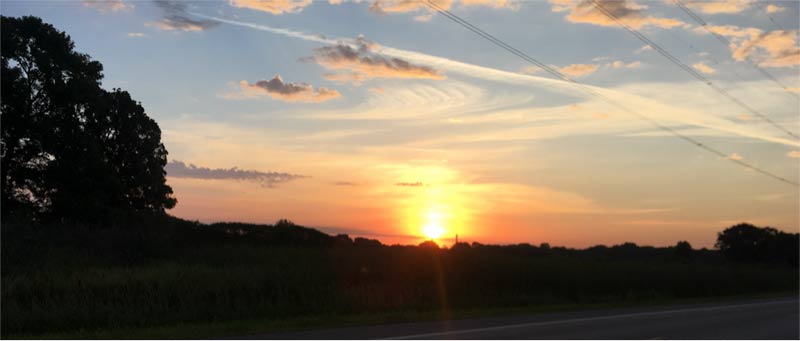 Minnesota is known for its many lakes, marshes, and abundant wildlife. I saw a congregation of eight cranes on these waters.
The early morning sun cast a shadow on me and Sunride as we ambled along the river, making good time, averaging about 22 miles per hour.
In a little over an hour we crossed into Iowa at the little town of New Albin.

I remembered all the red barns from driving through the Hawkeye State years ago. Sure enough, they're still there in great numbers.
I stopped at the market in New Albin to buy some red meat. Judy and I would share a sumptuous T-bone steak to celebrate the 48thstate. The owners came out to view Sunride and took some photos of their own to post on their Facebook page. They thanked me for my business and wished me safe travels home. It was a great way to end, in Iowa, the last of the lower 48.
I was elated the whole way back. Riding in all 48 of the Continental United States was truly an accomplishment, but there were two states to go. Once home and after catching up on business, I will plan the final rides to Alaska and Hawaii. But for now, a celebration is in order!