The many faces of Sunride
"Sunride" is the name of my two solar-powered electric bikes. I typically charge the bike's battery from home with my rooftop solar array that powers my home and all the other electric vehicles we own. I have mainly been using the bikes for work. I do solar service. It's 16 miles from my home to my shop where I have another solar array that can recharge my battery. Sometimes I plug-in at a customer's house, charging while I work on their solar photovoltaic system, solar water heater or solar pool heating system.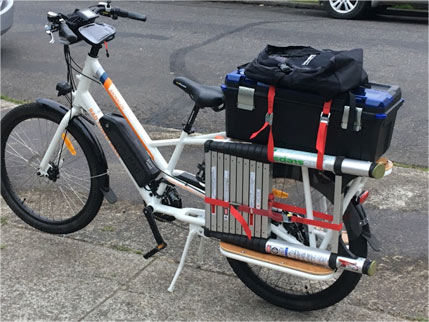 Above Sunride is all geared up for her first day of work. Notice the collapsed telescoping aluminum ladder that extends to 12 feet to get me on most roofs.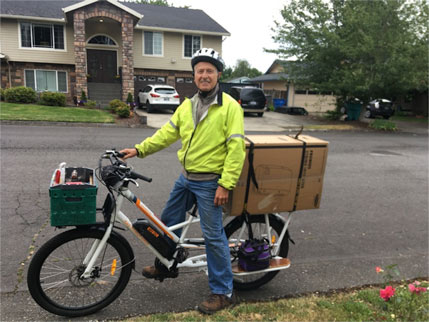 Here I'm replacing a PV system inverter (tools in front, 3800-watt inverter in back).
Here I'm set up to do solar pool system: My big tool box in front and lots of PVC fittings in the big storage container in back.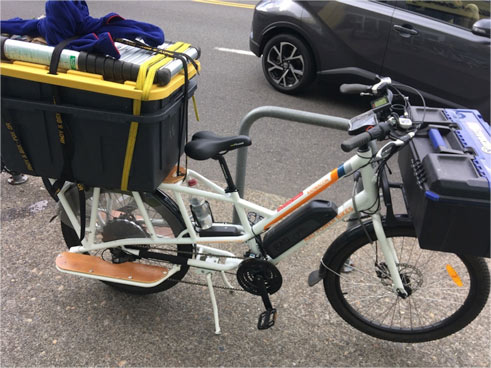 Believe it or not, I even did a glycol change on a solar water heater where I carried five gallons of fluid, my charging kit, and all my tools. The maximum load Sunride can carry is 350 pounds. I'm about half of that and sometimes with all my equipment I'm close to the limit. Sunride makes it though, even up hills.
Sometimes if I have to travel across town, Sunride rolls onto the MAX.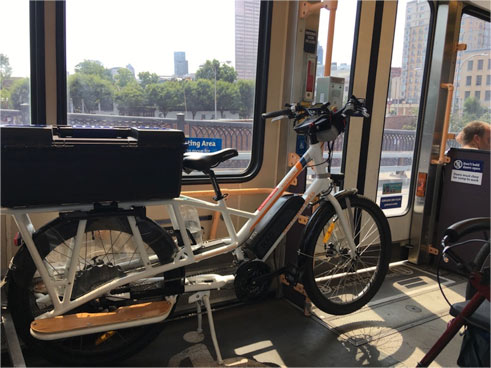 But all work and no play makes Sunride a dull workhorse. So, I grabbed an opportunity to show her off at an annual Portland bike ride event with 10,000 other riders!
The many faces of Sunride