9/10/19 – Day 7 – Caldwell, ID – How I Pack My Supplies
Today I'm waiting for new spokes to arrive from Seattle. The bike shop in Meridian, ID repaired my flat tire, putting a liner in that will protect against "goat heads" – burrs from a plant growing on the side of the road that blows around and becomes super hard over time. The liner should also protect against parts that fly off of trucks and cars when they have flat tires, etc.
A friend from Tennessee asked how I carried my tent, sleeping bag, and all my equipment on the bike. The picture below was taken at the sendoff party SunModo threw for me before I left Vancouver. SunModo makes solar PV racking and mounting systems, and I've used their products to install solar systems for hundreds of customers over the years.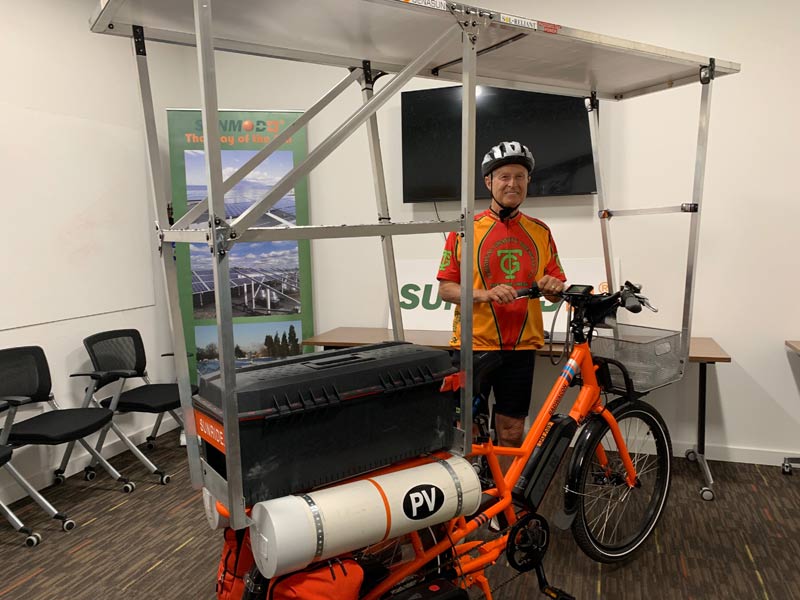 Initially the white tubes carried my sleeping bag, air mattress, tent and rain gear. The lockable toolbox carried my charging setup, my evacuated-tube solar cooker, a box of business cards, an electric meter, tools, GoPro camera and accessories, and clothesline and clothespins for hanging my laundry. In the orange saddlebags I have heavy clothes, a sweatshirt and warm jacket in one, and t-shirts and underwear in the other. Every three days I check into a motel and do my wash by hand, hanging it on the clothesline tied to Sunride if it doesn't dry all the way in the motel. There is a shelf above the toolbox that helps brace the bike when I hit a bump, but also is handy to put things on while I rummage through the toolbox or for airing out my sleeping bag.
The bike shop in Meridian speculated that my flat tire was caused by goat heads, and the spoke could have been broken because of all the weight on the rear wheel. It can hold 125 pounds, and my equipment is less than that, but if I hit a bump really hard, which has happened, it could damage the spoke, which is why I ordered extra spokes. To reduce the weight, I'm sending home the white tubes, the solar cooker, my thermos, half the box of business cards, extra clothes, and the GoPro camera (my iPhone works well enough). That reduces the weight by about 30 pounds. I've also shifted the weight forward so now the orange bags are in the basket on the front.
9/10/19 – Day 7 – Caldwell, ID – How I Pack My Supplies