9/17/19 – Day 14 – Malta, ID to Tremonton, UT – Double Drat! Another Flat!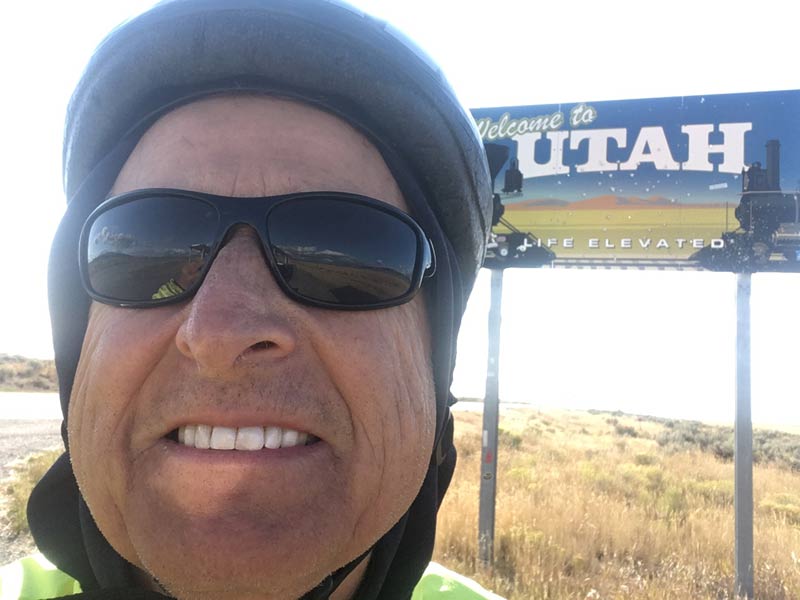 With the big storm past and a good night's sleep, I got an early start out of Malta. Within an hour or so I crossed over into Utah. The road was noticeably bumpier. Then, just like when I'd first entered Idaho I felt that sickening sway in the back that could only mean one thing: another rear tire flat.
I was really hating it. I had a nice tail wind and good sunshine. I was hopeful for a big day; but now I had to deal with a difficult rear tire removal. The first time it happened I didn't even try. With the motor, the gear shifter, and the brake calipers, there's just too much going on back there. This time I'd have to figure it out. I had watched George, the Meridian Cycle bike shop mechanic, take the rear wheel off before. I at least knew what to do, but it would be hard. My friend Mike helped me take off the tire from the bike in the confines of his garage where we used two five gallon buckets to prop up the rear to get enough clearance. He observed it would be all but impossible for one person to do a rear tire change on my solar bike.
Necessity is the mother of invention. It had to be done, one way or another. I removed the front tire so I could tilt the rear end high in the air. Sunride looked like my cat that raises her rear when you scratch her favorite spot on her back near her tail. I freed the rear wheel as a gust of wind blew Sunride off her center stand. The forks in the front dug into the ground and the bike pitched sideways ready to fall. I grabbed the uprights just in time to save a spill. I moved the bike up onto the concrete, virtually in the road. This would be more stable. I removed the punctured inner tube. A fine piece of steel, probably from a truck tire, was the culprit. All in all it took two precious hours and I lost my tail wind. I lost 300-watt hours of sunshine, a 10-mile loss in range.
I had now used both of my spare inner tubes. The next flat would strand me. I must make Tremonton, Utah, 38 miles away with hopefully a bike shop.
9/17/19 – Day 14 – Malta, ID to Tremonton, UT – Double Drat! Another Flat!